More
So, before we dive into the Cannes craziness here's a few snapshots from Paris, right before I left. Warm days and evenings spent by the Seine (with a bottle of rosé of course), pretty blooms, I actually managed to avoid Paris in the rain except for this one day and Ladurée's latest collaboration with Kerrie Hess. My necessities before flying down to Nice, Parisian streets, pink blossoms and the beautiful breakfast space at Shangri-La (as well as the entrance). Parisian doors and more beauty in the form of #gardengoals and a mini Versailles at the Shangri-La.
Tucked away in a little mountain village outside of Geneva you will find the Mecca for any watch-lover. If you've been following along through Instagram and Snapchat you might remember that this is where I was a while back when saying that I went on a special little trip to Switzerland. Now, for anyone who knows me my love for watches and their complicated mechanisms is not news but for anyone who doesn't know my personally this little interest might come as a bit of a shock… Or well, shock is a big word, surprise might be better suited. Okay, I'll let you in on the whole (cheesy) story to explain this little obsession of mine. An old boyfriend of mine had an enormous interest for these kind of items and as you do, when in love, I tried to show my interest in what he loved as well. I actually tried to understand his passion so much it ended up becoming a passion of my own. Funny how things turn out right? See there, now you know me just as well as my personal friends (well, almost at least).
Due to this secret little interest I almost jumped out of my chair of excitement when I received Jaeger-LeCoultre's invitation to their manufacture in Switzerland. Once there, at one of the world's most classic and prestigious watch manufactures, I got to learn everything I could possibly think of when it comes to watchmaking, their classic model the Reverso (which happens to be celebrating 85 years at the moment) as well as what's new and in store for the brand to come.
I got to give engraving a go (and failed miserably…), talk to the factory workers who were more than happy to show me how diamonds were placed in their right spot and how one of the world's most complicated watch mechanisms works in the "Grande sonnerie" (you have to see this if you haven't yet) that one of the men has been working on for almost a whole year now.
In the photos above you can also see the newest models of their most classic watch the Reverso. Why is it called the Reverso you ask? Because you can actually flip the watch around and either engrave the back of it or have a whole other dial on the other side. Pretty clever, no? Look at that model in rose gold with the moon phase on the other side! Ok, now I feel like I'm loosing you… Enough with the geekiness! I hope you enjoyed this little peek into watch making and perhaps even learned something new? Either way I'm so happy to share this little interest and hope you see the beauty in this complicated process of making time. Thank you for making a personal little dream come true Jaeger-LeCoultre!
Here are a few photos from Instagram recently (and a few I never even got around to publishing on there). The beautiful Zuhair Murad skirt I wore to their haute couture show, gorgeous light at Palais-Royal, homemade risotto at my place for a couple of friends and the magical ice-skating rink at the Plaza. Delicious lunch at Ellsworth, looking out over Place Vendôme from Boucheron, gorgeous haute couture venues and typical Parisian cafés. The view from the Park Hyatt, much needed coffee, la Tour Eiffel and my favourite kind of streets in this city.
I also just came back from a short little trip to Switzerland, which I think you've seen if you follow along on Instagram or Snapchat (username: carin-olsson) that unfortunately made my cold a little bit worse and the reason why I'm lying in bed on a Friday night coughing instead of being out drinking wine together with friends at a bar. My cold aside, the trip to Geneva was absolutely fantastic and I can't wait to show you more photos from that soon!
I'm pretty sure I make these yearly posts more for myself than anyone else… I don't really know how interesting it is for people to read who don't really know me personally but it makes me to go through photos from the entire year, think about events that occurred and memories that I made and photos that I've forgotten. I love putting this together and reliving some of those moments that have been so special to me throughout the year. It makes me appreciate every little thing; from landing a dream job to sipping wine and eating burgers with friends. I'm pretty sure I say this every year but I'm also pretty sure I mean it every time I do: I've never been so happy as I have these last couple of months and I only hope that I have the chance to continue smiling just as much during the next year. Thank you to everyone who's been a part of this journey in one way or another.
The year of 2015 begun in the same part of the world as it will end. I celebrated last New Year's Eve in Sydney, Australia, where we watched the gorgeous fireworks over the Sydney Harbour bridge with a little picnic. I'm so happy that I got to see this part of the world, a place where a lot of my friends have either grown up or visited before. It sounds a bit cheesy but I think this whole post will sound a bit cheesy, but it really makes you understand your friends better when you see where they come from. It was a trip I'll never forget.
Back home in Paris, January was a month for a lot of fashion firsts. I photographed for Carolina Herrera (outside in the freezing cold) for the very first time – a job I'm so thrilled about each time since I work with the loveliest team, as well as getting to photograph the Dior show for the brand itself, which is something that might be the coolest thing I've done so far if I can say so myself. It's always the most stressful, but also most exciting job I do. I remember how nervous and stressed I was before this particular Haute Couture show but how big my smile got when I saw the set, collection and how lovely the people around me were.
February included a lot of exciting meetings, meetings which will later become real assignments and jobs (which I had no clue about at the time). It's funny to look back on these things and see the process and how each job and photography assignment actually got started. I'm so happy I can share a part of that trip here.
Besides more lovely time in Paris, I also visited London for a couple of days and luckily my friend Hana happened to be in the city at the same time and could show me around all of her favourite places and corners of the city. I've never really been a London-girl if I can be completely honest with you but after this trip I think I might have to go back a bit more often. I truly fell in love with the city and I still have so much left to explore that I haven't yet seen. 2016, you better make room for some London-time!
The month of March was a bit intense, to say the least. Since this usually is the month that Paris Fashion Week falls on, it's always a lot of work, running around and trying to fit in as many things and people as possible. Highlights in March? Shooting the Dior ready to wear runway show for Dior for the very first time, photographing a story for Elie Saab and Harper's Bazaar Hong Kong (which I still haven't been able to find a copy of…), attending the Louis Vuitton show out by Fondation Louis Vuitton and photographing this story (and my very first photography job) for Lanvin. It was so much fun planning, executing and doing this job since it involved so many flowers, pretty props and a lot of friends helping on the side.
Another (unexpected) highlight of March was seeing the PSG arena, Parc des Princes, completely empty, watching the players warm up and staying to experience the game. For those of you who don't know, Zlatan is pretty much considered to be a god in Sweden so I was quite excited for this opportunity. Since, I've almost watched every single game – either in bars, at home, with friends or at the stadium. A little secret hobby that I have on the side.
I didn't know what an exciting two days were in store for me when Veuve Clicquot asked me to come to Reims and photograph for them. Never did I know that I could have so much fun at a job and still be working. Kind of… A lot of champagne was consumed (enough to get me through a whole year I think), delicious food, kind people and a party that lasted until 7am the next morning. Oh, and did I mention the super cool foosball table they had (which you can kind of see a little bit in the polaroid photo in the bottom)?
April was also the month of lovely time spent with friends, celebrating birthdays (first polaroid) and just having hourlong coffee dates with lots of great chats. This can be said for each and every month this year though. I also booked my very first photography job for Cartier, where I shot their Amulette collection, with the help from one of my favourite people, Katie (who always have my back when I need an extra hand).
The month of May also turned out to be quite eventful. Besides my dad coming to Paris and visiting me for a couple of days (I love when that happens) I flew down to the south of France, Cannes to be a bit more precise, for Dior's Cruise show as well as Cannes Film Festival. Photographing and attending the Dior show in Cannes (held at Le Palais Bulles) was probably one of the most incredible experiences I will ever have. The event was so perfectly organised and so carefully executed I'm not sure anything can ever top it. There was pétanque (all done in the Dior way of course) being played in a little village up in the mountains, lunch served at a museum and dinner by the sea with a pastel coloured sunset. The day after the show Dior held a brunch, and oh what a brunch it was (see ice cream and table setting polaroid for proof).
During the Cannes Film Festival I worked together with Elie Saab, which was nothing short of amazing either. I got to spend my days around gorgeous couture dresses and talk to the people who created all the wonderful Elie Saab perfumes while staying at the Martinez. Oh, what a wonderfully intense month you were May…
Summer is my favourite time of the year. Yes, I like spring and autumn as well but there's something about summer… Especially when it's a good one and oh boy, did Paris pull put the stops this summer. We had more sunshine than I could ever have asked for and I was able to wear dresses almost every single day, which I was more than happy about. In June I also shared the Swedish holiday Midsummer with my friends and I'm so happy they loved it just as much as I do. We had a Swedish picnic together, made flower crowns and danced around the maypole at the Swedish Institute and finished the day off with drinks on a rooftop overlooking Paris.
I also had time to celebrate Hana's bachelorette party, which is a day (and night) I won't forget anytime soon as well as visiting Venice for the first time in my life. The city of Venice was absolutely gorgeous, although being a boat person might help if you're planning on visiting (I'm not that good with boats since I tend to get a little bit nauseous from all of those waves…). Oh, I can't forget about that second photo either! In June I also had the pleasure of photographing Cartier's Paris Nouvelle Vague collection and the photos from this series are still some of my favourite…
In July I traveled to Barcelona, a city I had never visited before. The trip included 6am yoga sessions in front of the sea as well as yoga sessions on the top of a building while watching the sunset. Note to self and 2016: take up yoga. Haute Couture week also happened in July and yet another time I had the honour to photograph the show for Dior. It's weird that even though I had already photographed it for them before I still got butterflies in my stomach and had trouble sleeping the night before. But I'm so happy the butterflies are still there, that's a good sign, don't you think?
The summer was boiling hot, and especially in a city with no air conditioning or access to the sea… I tried to buy a fan everywhere in the city but everything was sold out. It wasn't until I was walking to dinner one evening (dripping in sweat – yeah I know, too much information…) that I saw a truck unloading a bunch of fans into a little shop. Let's just say that I ran.
Another very special experience was with Cartier in the south of France… In celebration of their new high jewellery collection they flew us down to Cannes and treated us to the most spectacular weekend ever. Or what else would you call dinner on a private island, lunch in the garden of a mansion, a helicopter ride to the top of a mountain (only to sip champagne, take a nap in the grass and enjoy several fruit plates)? Yup, pretty crazy.
Instead of spending the month of August on a beach in Italy together with my family I had to stay in Paris for teeth surgery. No, not the most enjoyable thing I've done so far… And because of this I didn't really get a work-free vacation this summer – although, as it turned out, I had a pretty fantastic time in Paris as well. Thankfully I had friends who also stayed behind in the French capital during the month of August and because of the gorgeous weather we could enjoy coffee dates, lunches outside and wine on Parisian terraces and friend's rooftops.
But the most meaningful weekend of all summer, has to be the wedding of two of my best friends. After helping out planning this wedding for months, cutting cards, stamping paper, writing letters and picking out colours it was such a joy to get to see the two of them tie the knot in the middle of the French countryside together with some of my dearest friends. I think it's safe to say that I've never cried so many tears of happiness or had so much fun with friends and family of the bride and groom during a whole weekend in the most beautiful castle in France.
When September came around I felt as though summer had gone way too quickly… I decided that before the madness of fashion week begun I had to make time for a little bit of beach time together with a friend who just started her studies in Monaco. So for a couple of days I got to spend some time with my feet in the sea, drinking rosé for lunch and having delicious Italian pizza for dinner. That reminds me, I think I need to go and visit soon again…
I also did some photography work for L'Oréal as well as for PSG. Yes, the contrasts are a little bit ironic if I can say so myself but that's truly what I enjoy the most about my work – that I one day can be shooting pink lipsticks around Paris and the next football players kicking balls around.
It's funny how many times it feels as though it's fashion week in Paris (even though there's only two RTW weeks during the year). In the end of September/beginning of October it was time again and this time I put my heels to good use for several events, cocktail gatherings as well as for meetings with people in town. I didn't know it then but the show that I photographed for Dior this season was Raf Simon's last for the brand and perhaps it was a good thing that I had no idea since I'm quite sure I would have shed a tear or two (and refused to leave the venue once the show was over) if I would have known. I can't (scratch that, I don't want to) imagine Dior without Raf.
In October I also had the opportunity to fly back home to Stockholm, Sweden, for the first time in nearly a year. I flew back home for my father's birthday as well as to catch up with friends, see my mother and my little dog. It's crazy to think about how fast time passes but I hope it won't be another year until I go home again.
In the beginning of November I decided to book a trip to Rome for my birthday. Well, it was more an excuse to book a trip to Rome I think. At a dinner (and after a few too many glasses of wine) I suggested that a couple of friends should join in and to my surprise they actually ended up booking their tickets and joined me for pasta, coffee and gelato in one of my favourite cities ever. I don't think I've ever laughed as much as I did during this wonderful weekend away. Everything just felt so easy, joyful and exciting. I took the girls on a Vespa tour together with my dear Annie around the city (the best way to see it for sure) and other than that we simply spent our days eating, drinking and talking. I wish I could relive these days again, they were that good.
Sadly, arriving back to Paris and having these terror attacks taking place the day after completely broke my heart and made me stay indoors for a whole week before having the courage to go about life as "normal" again. There are no words to describe what happened and my thoughts are still with everyone affected by these incidents. I smiled again when I saw how strong the city and its people were and how wonderful it came back together again and decided to live on, just as joyfully (if not more so) as before.
December. The last month of the year and the season I hate the most. Winter. I don't like the cold and I don't like the dark. Fortunately the weather was extremely mild, which allowed for French onion soup on the terrace even though we were in mid December. I spend the month with friends and will be ending it together with my family, not too far from where I rang in the new year last year… Isn't it funny how things turn out. I didn't think I would be back here so soon but here I am, looking out over the ocean and beach in Bali while writing this, hoping that next year will bring just as much happiness and excitement as this one did. It goes so fast, yet so many things happen. I'm so grateful for all the wonderful memories I've made this year, which I will cherish forever.
Scented candle: Sanui
I've been locked inside my apartment all day today, trying to edit photos from a few different jobs that I've done during the last couple of weeks. This is something that I love to do (I mean editing is half of my job) but after a while my eyes starts to hurt, my body misses fresh air and my mind starts to wonder… Thankfully I got to put on a pair of heels, treat myself to a few glasses of wine as a little reward and celebrate a friend's birthday last night.
•   A recent story I had the pleasure of photographing for Goop.
•   I'm currently obsessed with making soups and need all the suggestions I can get!
•   Garance Doré talking lingerie (which just made me place two orders from Net-a-Porter… Ops).
•   Laughs thanks to Man Repeller.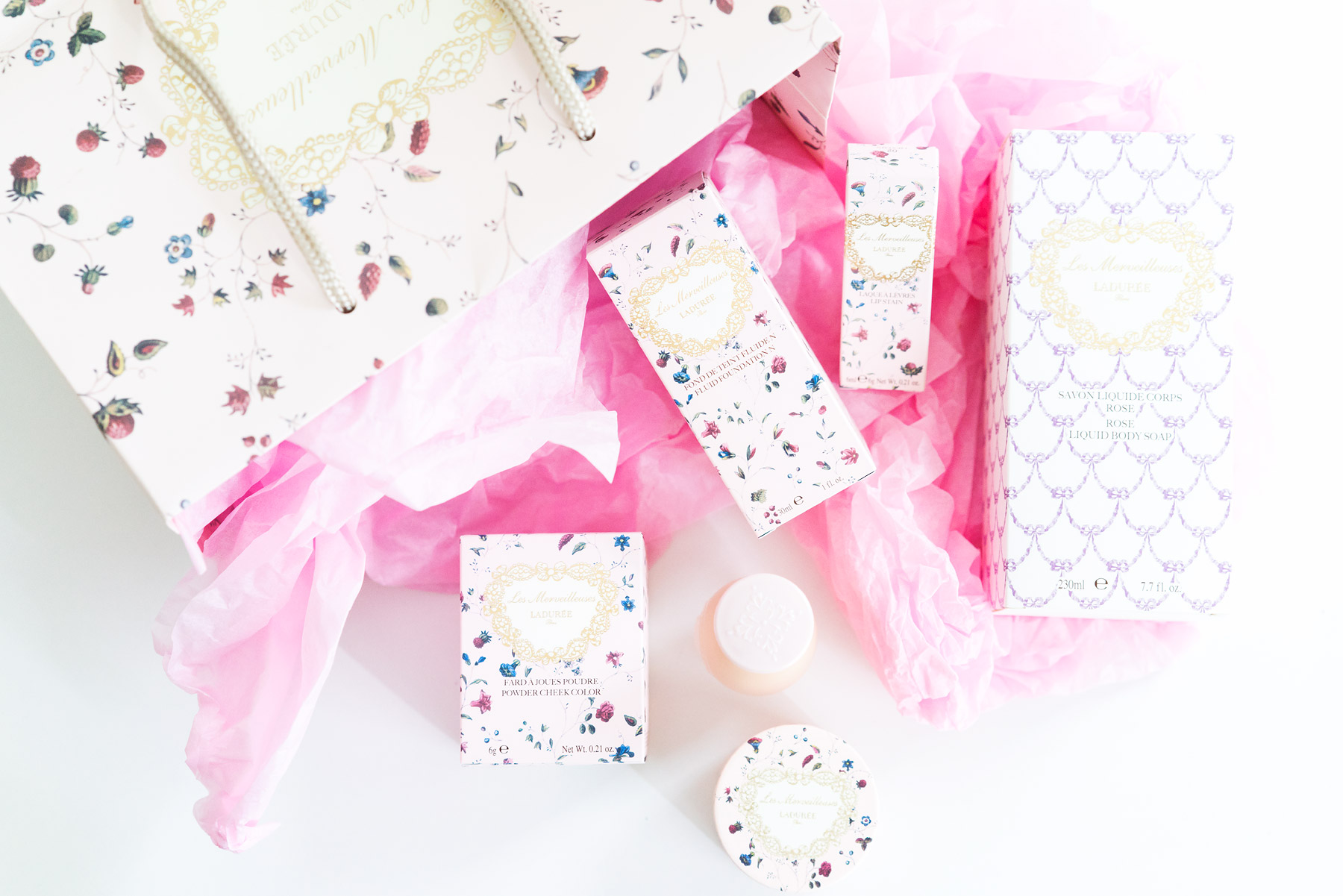 Scratch "weekend" in this case since it's only Wednesday and let's make an exception here! I'm so happy to see how strong Paris has been during these recent days and so impressed by peoples' determination to still enjoy, live and stroll around the city. During this time I've enjoyed every little thing that has been able to put a smile on my face, which has been everything from a smile from a stranger, sunny weather or incredibly nice Uber-drivers to the company of the loveliest friends, calls from my sister who's all the way in Australia and adorable pink surprises from Ladurée (as you can see above). Distraction in the form of interesting reads has also been a little help to get my mind off of things…
•   Garance Doré on dressing for shorter less tall people (I need to study this).
•   Dreaming about Bergamo and Italy…
•   Wishing I had the energy to make these "fake shack" burgers at home.
•   Seeing Japan through Katie's talented eyes.
Delicious treats at Boot Café, calm mornings in Jardin du Palais Royal, sunny summer evenings by the Seine and the beautiful dome inside Galeries Lafayette. Never forget to look up, some days it's harder to get out of bed than others, on my way to French toast in Saint Germain and coffee and cake on repeat… French toast on the Ladurée menu, a visit to newly opened Brasserie Barbes, a completely empty Place des Vosges and cute Parisian terraces everywhere you look.
I'm currently writing this with one of my cheeks being the size of a football, more or less. Yesterday I had to have dental surgery done due to two stupid wisdom teeth that thought it seemed fitting to pop up just in time to ruin my holidays. I was supposed to leave for Italy this Monday to see both family and friends but had to cancel the whole trip because of this less than hilarious problem. Anyhow, fast forward past one of the most uncomfortable experiences of my life and I'm now only able to sip juice and eat cold soup. Hopefully this little bump in the road will be over sooner rather than later and perhaps I'll even be lucky enough to plan a weekend in Italy after all, we'll see…
In the meantime I'll share a few photos from Instagram lately starting with an image from my shoot with the lovely Kerrie Hess (more about that very soon), every marble lover's dream bathroom at Hotel Le Meurice, my ridiculously happy face when stumbling across this cute Fiat and the Plaza Athénée's beautiful red balconies. The view from my flat where I'm currently being held hostage, Parisian street corners, a sparkling Tour Eiffel and some recent work I photographed for Carolina Herrera during Haute Couture week. Place Saint Sulpice, one of my favourite spots in Paris, gorgeous rooftops and empty Parisian streets on a Sunday.
Sunny days in Jardin des Tuileries, pain au chocolat for breakfast (and ignoring the fact that I want to fit into a bikini in a couple of weeks), warm summer evenings in Saint-Germain and ice cold lemonade at PNY. Pretty Parisian doors, the Eiffel Tower lookin' all charming, my outfit for my friend Hana's hen do and the very popular restaurant Septime (I can se why). The place where we begun the bachelorette party last weekend called La Gare, waffles at Ellsworth with a sprinkle of Elderflowers, beautiful blossoms and my favourite Jardin du Palais-Royal. This and more on Instagram!